Get Printing Tigers!
Disclaimer: Nothing in this story is true, that's how satire works, I also made up all the quotes, no one actually said these things 
Hey Tigers! The HF staff just approved a brand new policy: instead of paying for printing things in the library, now you get $0.05 of your tuition back for each page you print!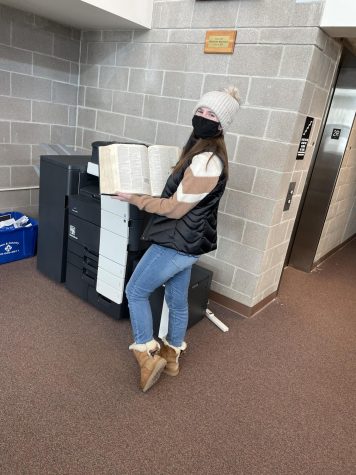 Students have been rushing to the library to print out each and every thing they possibly can in an attempt to gain back some money. "We just thought now would be a good time to start giving back," said Dean Joe Galmish. "Of course it's not a lot of money, we don't want to be too generous."
Mrs. St. John has been frantically trying to keep the printer stocked with paper and ink while students rack up a few dollars. At five cents per page, it would take 2,000 pages to make $100 back, but the challenge is out there. "I've already printed about about 1800 pages" says senior Liam Slavin, "I'm trying to earn about $300 dollars back in total."
Mrs. Cillessen, head of the speech and debate team, is currently funding the entire team of 65 students solely by printing out senior Mikey Dolph's debate cases. This change has allowed the participating students to actually eat more than stale goldfish and Costco muffins while they're competing and has provided them transportation.
The entire Holy Family student body is incredibly grateful to the staff for allowing this change in policy and, for the first time ever, are actually excited to be writing essays.