Wrestling vs. COVID-19
The mask dilemma will be on ongoing fight
Wrestling at Holy Family seems to be a sport most people seem to overlook, especially during the time of Covid.
But for the kids that wrestle at Holy Family this is what they look forward to every year. This year there's something that might possibly cancel the season for these wrestlers and take away their opportunity to prove themselves on the mat. COVID-19 is on the verge of ruining the wrestling season for Holy Family. Since wrestling is one of the sports that is completely indoors, the thought that one person could get it and spread it to everybody is scary to think of. 
Basketball just announced recently that players must wear masks during the games even while playing. Sadly, this is what must be done to have a basketball season. Some players on the other hand were extremely disappointed in the Colorado Health Department for not taking the players' opinion under consideration.
One student at Broomfield High School has already created a a petition to send to the Colorado High School Activities Association (CHSAA) asking to reconsider the mask policy during play. To date, the petition already has over 800 signatures and is still growing.
Landon Natrass, who created the petition said: "I created the petition to not force Colorado HS Basketball Players to wear masks during the season after having to play in a mask league over the fall. I experienced first hand the danger of wearing a mask during intense physical activity. All of my teammates supported me as they went through the same pain of your hot breath being stuck in the mask and the inability to intake new fresh oxygen subsequently heating up your body temperature. With your heated body temperature, your body sweats more to try to get you to cool down. The sweat then gets into your mask, now as you breath in you're being choked.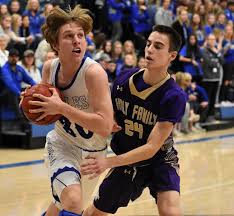 "It's as if someone had a rag filled with water and choked you with it as a form of torture or to subdue you. Now imagine all of this happening while trying to jump, run, and get low on defense. Basketball is the most physically demanding sport in play and wearing a mask while playing it makes it painfully terrible. Both the CDC and WHO(World Health Org.) each warned against wearing masks during intense physical activity. Anyone who's seen a game of basketball knows it definitely fits in the category as an intense physical activity. I created the petition to protect my team, other players, and myself this season from health risks from wearing a mask while performing intense activity."
Wrestling with masks on seems like an impossible task if that's what the board decides. For some it's the fact that wrestling involves tons of conditioning and wearing a mask restricts their breathing.
Others don't want to wear a mask during the matches/tournaments since they are just gonna fall down and mess up their focus/concentration.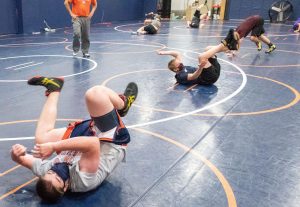 "Wrestling is a sport involving heavy cardio, it is already hard enough to breathe without a mask, it wouldn't be safe to limit our breathing even more," said senior Logan Erickson, whose team will wrestle 19 duals this season. "Plus it gets hot. It's also really not possible to keep the mask on during the match because it will be pulled off while we are wrestling."
Wrestling was recently approved to go by the Broomfield Health Department and Holy Family will wrestled 19 duals. During the week the Tigers will wrestle a single dual and then Saturday will travel to quadrangular dual tournament. The state mandate is that no more than four teams are allowed a single venue at one time. The regional and state tournaments are still on for now, but how they will look when March arrives may be completely different.
If the board decides that masks are mandatory, wrestlers must follow the guidelines if they want to have season. Hopefully with the vaccine coming out, we can finally go back to how things were and don't have to worry about all these policies about masks next year.