The Challenges Campus Ministry Still Faces
Father Joe points out the positives
Father Joe Grady joined our Holy Family family in 2020 as our school chaplain. Unfortunately, as with many things this year, many of the roles assigned to a campus chaplain had to be altered given the different restrictions at our school. 
For starters, arguably the most quintessential part of attending Catholic school is the access to frequent Mass. In the past, Holy Family would have class Mass for each grade, as well as monthly all-school Masses. Due to the restrictions on mass-gatherings, all-school Mass was not possible this year. Luckily, there are other opportunities for the student body to encounter the Eucharist in smaller settings. For example, when the weather was nicer, full classes were able to attend Mass outside on the front lawn. Also, each classroom during third block is able to sign up for more limited gatherings in our chapel every semester. While it is unfortunate that we are unable to gather as a whole student body, the access we still have to Mass is not something to take for granted.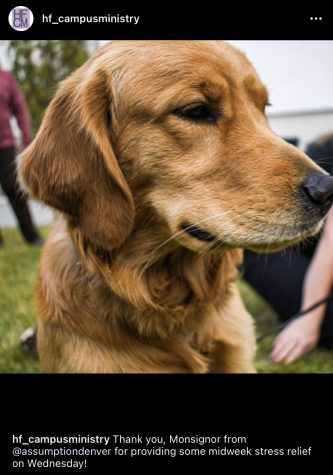 Fr. Joe believes that there are many things to consider ourselves lucky to have. 
"Sometimes you're so focused on your routine [that] it's easy to forget that most people in Broomfield don't even get this routine," Fr. reminds us. "Even our worst day is better than everyone else's best day doing online learning."
Prior to being Holy Family's campus chaplain, Fr. Joe worked in campus ministry at Colorado State University in Fort Collins. He describes working at the two schools as very different in terms of atmosphere, but with a similar mission.
"In CSU we were campus ministry on a very secular campus, so we had the opportunity to make a proposal that was very county-cultural," he explains. "At Holy Family, we're making the same counter-cultural proposal, but… the perception of being counter-cultural is not as clear. At the same time, you can do so much more within a Catholic institution. You have so much more freedom in the classroom and to speak your mind… You have the opportunity to connect with people that you would never be able to reach in a big secular university."
While this was certainly an interesting time to begin working for a new school, Fr. Joe has been able to make the best of it.
As he puts it: "I think it's good because, being new
here this year, I'm not just being thrown into a program. We have a whole year to sit back and think about what we want [Holy Family's] campus ministry to look like."
Some of the new things Fr. has instituted into our campus ministry program include organizing activities such as Bingo or karaoke during Wednesday lunches in the gym, and even bringing an emotional support dog to campus for students. Fr. Joe also runs an Instagram account for campus ministry, on which he often posts comedic video clips and photos.
All in all, our campus ministry program has experienced a lot of changes this year, but in some amazing ways!
I will leave you with some advice from Fr. Joe: "Surround yourself with tacos, not negativity."