Lunch Lady Amy Meyer Opens Up About Her Health Battles
Our local lunch lady Amy Meyer has an inspiring story that I believe should be shared with our community.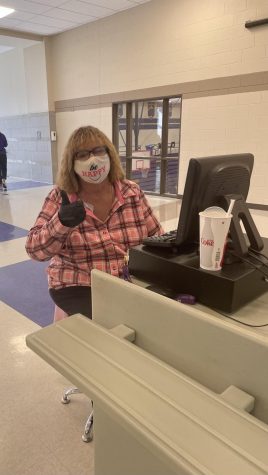 Amy at the age of 11 went to the doctors for a physical. The doctors brushed off her high blood pressure at first. However, when her blood pressure did not change, she was sent to many doctors and had countless tests done. It was not until Amy was sent to a kidney specialist that she got answers.
The doctor did two needle biopsies to take part of her kidney to test. It came back inconclusive, so they cut open her back to take a larger chunk of her kidney for a second test. She was then diagnosed with glomerulonephritis.
Glomerulonephritis is an inflammation of the tiny filters in your kidneys (glomeruli). Glomeruli remove excess fluid, electrolytes, and waste from your bloodstream and pass them into your urine. The doctors came to the conclusion that she contracted it from the many strep infections she got as a child. In Amy's case, when she gets an infection, her body produces extra antibodies that settle in the glomeruli, which ultimately caused an infection.
Amy was put on a steroid to keep her kidneys going. Around the age of 22, Amy started dialysis. Dialysis is a treatment for kidney failure that rids your body of unwanted toxins by filtering the blood. Her first kidney transplant was at age 25. After her transplant, she successfully gave birth to her son. However, her new kidney lasted 12 years (the average time length for a kidney transplant) and it eventually started failing.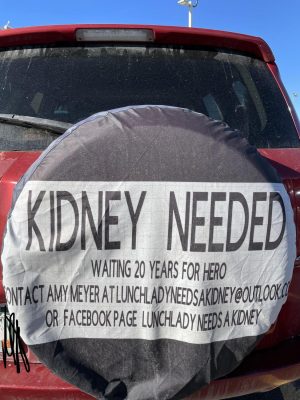 Amy has been on the waiting list for a new kidney for 21 years. Finding a match has been difficult for Amy because her antibody count is very high from both her first transplant and giving birth to her son. In meantime, she goes to dialysis three times a week for five hours each treatment. That is 15 hours total, which is equal to a part time job.
Since Amy has been on dialysis for so long, she has developed Peripheral Neuropathy (a result of damage to the nerves outside of the brain and spinal cord). It typically causes weakness and numbness in the hands and feet. Because Amy has little to no feeling in her fingers, she gets burns and other injuries easily. Since she has bad blood flow and so much toxins in her blood, her injuries heal a lot slower and get infections that go to her bone. Unfortunately, Amy has had the first three toes on her right foot and two and a half fingers on her right hand amputated.
Amy has also lost eye sight in her left eye and is "twinning" with her husband now. When she was under sedation to get her chest catheter replaced, her blood pressure dropped so much it caused a stroke in her eye. It cannot be fixed and the blindness is permanent.
Despite her troubles, Amy has a great mindset. "When every little thing goes wrong, I ask myself: what can we do to fix this? What can we do to make this better?" Behind her she has a supportive family that she loves dearly. Her mother in law has taken her to the Mayo clinic in Minnesota several times in hopes for a kidney transplant. Amy also feels supported by the Tiger Family here at HF. "Of course everyone here is so good too. People always ask: do you need anything? Are you ok?"
In Amy's free time she likes to watch movies, play board games, and bake. She loves to spend time with her 4 year old great nephew. She also spends a lot of time with her parents making the "Towels for Transplant", (a  towel business to raise money for a transplant for Amy).
If you would like to support Amy, the link for her website and Facebook for Towels for Transplant is below:
https://m.facebook.com/pages/category/Arts—Crafts-Store/Towels-For-Transplant-2090310390993131/
www.towels4transplant.com