Speech and Debate in Covid Times
In an event residing in small classrooms and crowded cafeterias, Speech and Debate in the midst of Covid was left with a lot of questions.
Coming into this season, many wondered how the season would even go, especially after the way the previous one was left. With a combination of Zoom and a lot of technical difficulties, Speech and Debate was officially able to participate. Along with principal Matt Hauptly's permission to hold the online tournaments together in school, Speech and Debate could remain a team, just one on a screen.
Captain Megan Smolky discusses the new online zoom format: "The online format has made everyone on the team regardless of event a better speaker because we have to focus on presentation skills. Our face to face interaction has been taken away and now we have to focus on presenting ourselves in a way that communicates through zoom and online. Personally for me, my event has not changed, it is one of the ones that is very adaptable to the online format. I am grateful we can still come to Holy Family to compete to get the team aspect, as now it feels like an opportunity and not a chore."
For debate to work within the online format, competitors must compete in various classrooms and participate through programs such as Zoom. There are the common issues, such as speaker malfunctions and internet issues, but so far it has gone smoothly.
For the speech portion to work, competitors record their speech either at home or at school with a codeword specific to each tournament. Once recorded, they simply submit it to the tournament they are participating in and wait for the feedback from the volunteer judges. It is a harsh change for an event that relies heavily on face to face human interaction. 
The online format, regardless of activity or class, felt like a chore that just about no one wanted to do. Through safe, distanced team activities, Speech and Debate can still feel like a team and thankfully, avoid COVID.
Though it is not everyone's dream to dress up on a Saturday and sit in your high school, it is a happy alternative to a situation many never dreamed of.
Many, like CJ O'Neill, Joseph Chacon and Joseph Silva, still make light out of the strange situations, cracking jokes and becoming what head coach Mrs. Lisa Cillessen has coined, "team hype men."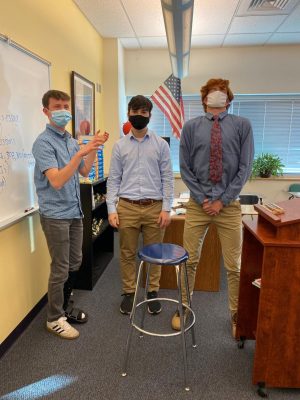 Though Speech and Debate kids will miss the crowded cafeterias and stuffy award ceremonies, there is much to be thankful for is such strange times.