Christmas Sweaters
Who doesn't love Christmas? There are so many amazing things associated with it, there are lights, cookies, songs, and of course, ugly sweaters. Christmas sweaters are some of the most creative articles of clothing ever. There are so many different concepts out there and a lot of them, I can't believe actually exist.
When I decided to write this article, I did what anyone would do, I googled ugly sweaters. The search results were…interesting. For every sweet, cute, sweater, there were two weird ones. I'm starting to think maybe the ugly sweaters are part of what makes Christmas, Christmas.
Here are three of the ugliest school appropriate Christmas sweaters I found on the internet.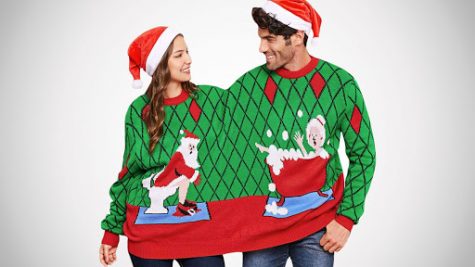 Bath Time Couples Sweater
This sweater not only doesn't make sense, but would be perhaps one of the most inconvenient things to wear. Why are Santa and Mrs. Claus in the bathroom? Why is this a two person sweater? The people wearing this would have to have some pretty impressive teamwork skills, especially if one of them has to give up their dominant hand. While I give this sweater points for creativity, I take most of them off because wow this would be annoying to wear.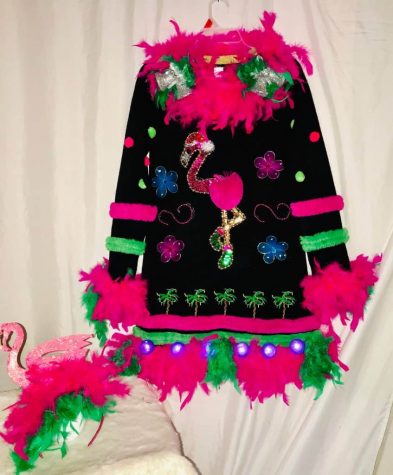 Flamingo Sweater 
Wow…just wow. Scrolling through pictures of sweaters, this lovely number instantly caught my eye. It's a ferocious combo of feathers and airport bus seats. I have no idea what flamingos have to do with Christmas, but I guess at this point we're just putting Santa hats on whatever animal we want and saying it's festive.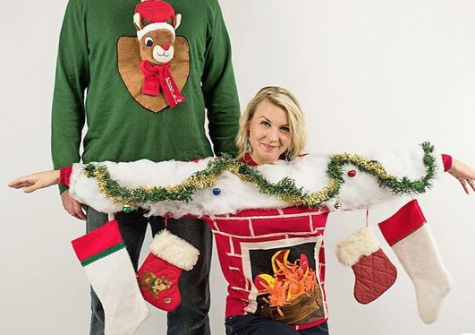 Fireplace Sweater 
These people took couples sweaters to whole…different level. As I'm sure you've gathered the woman in this picture is a fireplace, complete with fake snow and garland to really top off the look. The stockings dangling from her arms are artfully placed to replicate a classic Christmas visual. Her expression of "Yes, I did this" really sells the look. Her husband behind her is pretending to be a wall with a Rudolph head mounted on it. He is obviously not as into it as she is. Together, they make a complete look no one asked for.
Holy Family has tons of spirit this year and some pretty impressive sweaters if I do say so myself. To end this article and wish you all a Merry Christmas, here are some shout outs to our very festive students and staff!