Fall Play: This is a Test goes off without a hitch
Students were able to put on the show live and virtually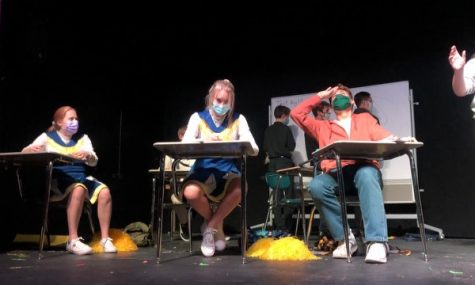 Despite current circumstances, Holy Family High School put on a their annual fall play. This year's play was called This is a Test.
The cast for the play was significantly smaller than previous years. The amount of people allowed to attend also had to decrease. Up to 50 people were allowed to watch the play in person. However there were also live stream tickets available every night.
The main character, Alan, was played by senior Jake Lucko and his understudy, freshman Luca InchingoloManz. While Alan is taking his test he has many distractions- his classmates throughout the entire test are cheating but he was unable to see or hear what answers were being shared.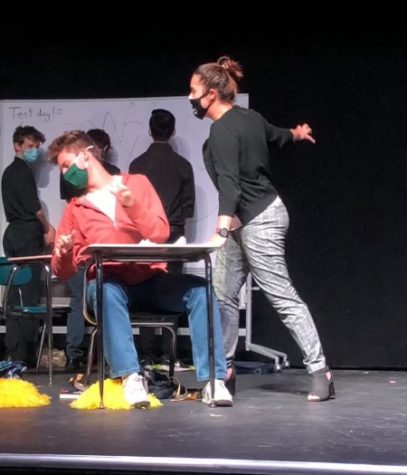 Not only are his classmates keeping his mind away but also his thoughts, which were played by a group of boys. They represented the distractions of his mind by repetitively playing a theatre exercise in which one would identify a random object and the others would respond with, "a what?" Alan was unable to focus and did not know any of the answers to his important test- a true nightmare for a high school student.
The theater did a fabulous job with adapting to the safety precautions from COVID-19 and still putting on a great play. The one-act play was short and comical. It gave insight to what high school test taking feels like.
As Abigail Rice said, "I thought it was a very thoughtful and humorous way to portray everyday in high school."
It also portrayed the social status in high school that the jocks get special treatment. The jock in Alan's class, Evan, did nothing on his test and claimed he would ace it. To no surprise the teacher "graded" it right there and gave him an A+.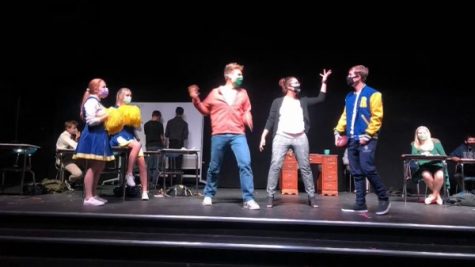 Since the amount of actors was limited the cast list was significantly smaller. Senior Alex Neece claims the environment was more intimate: "With a smaller cast it was easier to get to know each other and act with each other."
However some of their traditions had to change. They were unable to hold hands for the pre-show senior prayer circle, hang out behind the scenes, or have costume changes.
I am sorry for the changes the theater had to go under. But I applaud them for making the best out of it