The Gold Lobby Tree: The Answer to a Question you Didn't Know you Had
Hey, you know that gold tree in the lobby?
You know, the one across from the front door?
The same one you probably walk past everyday?
No?
I didn't either.
I remember looking at it once or twice my freshman year (I'm a senior now) and wondering what the heck it was, and then I promptly went about my day and didn't think about it again. It was only this year that I asked once again, what the heck is that?
On closer inspection I noticed something that made me even more curious, my family's name is on the tree! My grandparents, my aunt and my mom are on the tree and I still had no idea what that meant.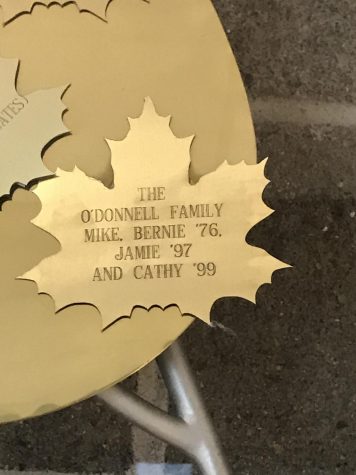 The tree is not as exciting as I hoped, but it is a significant part of the school's history. Holy Family High School has been around for a really long time, almost 100 years, but it hasn't always been on 144th and Sheridan.
Up until 1999 Holy Family was in North Denver, on the same campus as Holy Family Church on Utica Street. The new building was a definite upgrade from the old building, but it was undoubtedly very expensive. To be able to afford all the necessary things for this building, some major fundraising was required.
The tree in the lobby was one of those fundraisers. From 2001-2002, $1,200 put your name on a leaf, the fundraiser ultimately raise over 156,000 dollars. There are a total of 130 inscribed leaves on the tree, many of them in honor of deceased loved ones or to pay tribute to the graduating class of the donor. The tree is promised to be present to all Holy Family Tigers 25, 50, and 100 years in celebration of their graduation.
Well, now you know. The mystery of the gold tree has been solved.
So next time you're walking down the hall, say hello to the Family Tree, pay a little bit more attention to it. Maybe you'll be like me and find a name you know that sparks some curiosity.