XC Taking Titles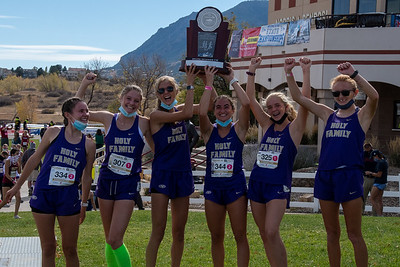 Holy Family Cross Country killed it at their 2020 State Competition, with the boys taking third place and the girls taking second. Those are major accomplishments, and coupled with senior Jack Culp taking 10th overall, I think it is safe to say that Holy Family is very, very fast.
The boys' team had sophomore Anthony Haberkorn, juniors Joe Silva, Luke Hixson, Micah Munoz, and Andrew Discalzo, and senior Jack Culp as its runners for this year's State Competition.
They all pushed each other and work hard together, and it really paid off. Joe Silva comments, "To see the summation of your work materialize into something visible is unlike anything else. Most of the time, the season just ends, and although you know personally that you improved as an athlete, there's no tangible evidence of that work. To get third place, and understand that the work was worth it was an incredible feeling. And this year it was especially important that we do well because this was the final season of Jack Culp, our senior runner. I've never seen anyone so dedicated to a sport, so to be a part of the team that got him a 3rd place finish was really meaningful."
The girls taking second place was a major accomplishment for the whole entire cross country program, and all the girls felt immense pride for their team. Sophomore Summer Norwell, juniors Alyssa Jany, Evie Boyd, and Elizabeth Boselli, and seniors Alyssa Wells and Maddie Tapp are the girls that brought the trophy to our school.
The reason that they did so well, according to Alyssa Jany, is because of their commitment as a team. "My motivation to get through the season was to run with friends and try to run the best I could. During those hard workouts or meets, there's nothing better than knowing that your teammate is going through the exact same thing right at your side. Many people don't think it is, but cross country is a team sport… For me, running with my friends makes running fun, whether it be chasing them with sticks, or playing catch with a football, or sneaking off to a park and playing groundies when coach isn't looking. At state, I had the motivation to run for my team. Those girls had given me so much throughout the season, that the least I could do was run well where it really counted."
The girls walked away as the second team in the entire state of Colorado, and they will never forget how that made them feel. Maddie Tapp commented, "I was so excited to hear that we got second as a team. It was amazing to know that all the hard work we'd put into the season paid off." Evie Boyd was beaming with pride for her team members, especially the seniors she grew so close with. She commented, "I was so incredibly proud of our team and especially happy that our seniors that ran it this year got to experience this because they have worked so hard and are so inspirational to me and to the team and it means a lot that they got to have their last race be this one."
To top off the amazing victories of the Holy Family cross country team as a whole, senior Jack Culp placed 10th overall. "The knowledge that this could be my last meet to beat my arch rival at Jefferson Academy and maybe get some college coaches interested in my running capabilities made me want to do well," Jack commented. Even with the different feel of the meet from lack of fans, Jack pushed himself to top last year's State Competition. "Taking 10th at State this year felt like a dream, last year I had gotten close to 10th (12th), so I wanted to end my season with a decent place. The atmosphere was a bit empty as spectators were limited, but the cheers from my team were more than enough to make the even feel real. Plus I got a shiny metal!"
The road to State may not have been easy with COVID-19 hanging over the season, but everyone worked their hardest nonetheless. "Because this was my senior year I was motivated to run every race like it was my last. Especially since we did not know how many races we'd get with COVID," Maddie Tapp said. Joe Silva, new to the team this year, felt especially welcomed and ready to go. "What motivated me mainly was the team. I was walking in on a group of guys who had been running together for two years, and their welcoming attitude and support is what got me through the season," he stated.
This year's cross country season had its ups and downs, but the Holy Family cross country team was able to push through and make a name for themselves. The only thing left to do is wait and see what they can accomplish in the future. Luke Hixson said it best: "We were all pretty pumped up and are more than ready to come back next year and crush the meet to get 1st."