Attention All Theatre Fans, This is a Test
Show set to go in November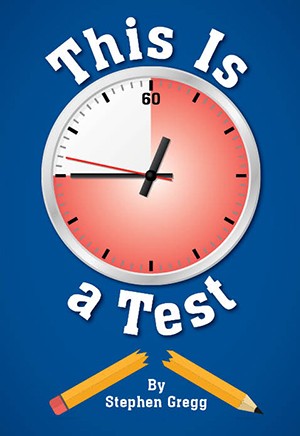 Last week, I heard an announcement that I've been waiting to hear since March: Holy Family's theatre department will now be performing a one-act play, This is a Test, November 11-14 at 7 p.m.
After the tragic loss of the musical Newsies last spring due to the COVID-19 quarantine, our theatre department was aching to perform again. Now, with social distancing and safety guidelines in place, our dream is finally able to become a reality.
And if you're a fan of theatre, this is what you've been waiting for too.
Auditions were held virtually, by submitting monologue videos to the Fall Play Google Classroom page. Callbacks were held in person Wednesday, September 23. The cast list was posted that next night. The first day of rehearsals was the following Monday. Everything happened so quickly, it is almost as if the news has not yet had time to settle. One thing is for sure, the buzz of excitement around the new cast members is almost tangible.
"I was so stoked to have a show this year," said senior and actor Jakob Lucko. "I really was not expecting that we [were] going to be cleared with restrictions and all, but I am overjoyed that we are able to perform. I can't wait to put on a show and have some much needed fun with such amazing people."
This is a Test is a short but intricate show emphasizing the ridiculous standards high school students are held to. We watch as the main character, Alan, takes an important test to determine his future as a student and as a person. That's all I can give away right now, but I can promise there is a lot more to it.
Rehearsals began September 28. The cast, numbering 20, chosen for this show will be put to the test with their comedic timing and cooperation. The rehearsal process will be a difficult process to perfect this chemistry among the cast. With the talent present within Holy Family's theatre department, I am confident in our ability to perform such a difficult show.
This is a show (a what?) — something you'll understand when you watch the show — that is going to be incredible, and you will want to see it, whether that's in our theater or online over a live stream. Theatre fan or not, the laughter that this show brings is extra important this year. Please plan on coming to support our drama department!
Unfortunately, as we are all aware by this point, plans can change at the drop of a hat with the ever-changing COVID-19 regulations. However, the cast of This is a Test and Holy Family's entire theatre department fully intends on bringing this show to life, and we hope with all of our hearts that this plan will come to fruition. After all, the show must go on.