Cheer's Back at It
Even With COVID-19, Cheer and Football are Coming Back.
COVID-19 has brought chaos into all of our worlds, including sports. With new restrictions comes new responsibilities, and CHSAA has been given the job to decide whether or not fall sports will play in the fall, or at all.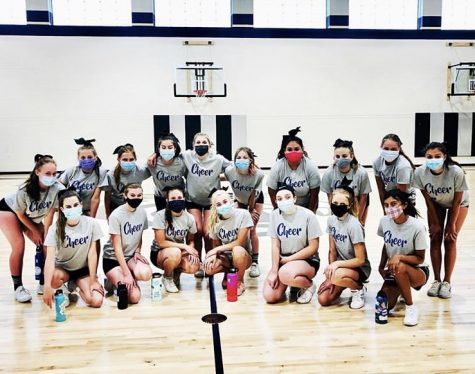 After summer workouts for all sports were well on their way, the plan for COVID-19 changes outlined the seasons as A, B, C, and D, ending the workouts and bringing a new schedule. The outline had season A happening in the fall, and only including limited contact sports. Slowly the rest of the sports would start to play play throughout seasons B, C, and D.
However, now the tides are changing, bringing even more sports into the fall season. This includes cheer. And everyone is excited to start the season. "I am very excited. I feel that this gives kids an opportunity to get back with their coaches and their team members earlier than expected, and not just see them at school… and just get really excited about cheering for their team and getting out there again," head cheer coach Lucy Nash commented.
With the season starting now, restrictions are heavy. Everyone must wear a mask, and keep six feet of distance apart. The cheerleaders have to stay 25 feet away from the players themselves. The most disappointing restrictions are no fans, and no stunting.
Cheerleading, admittedly, is a sport that is very hard to be socially distant in when it comes to stunts. Stunting requires close quarters, and throwing and catching the flyer requires contact. Two bases, one backspot, one flyer, are all components of one full stunt group. Pyramids bring in even more issues, where multiple stunt groups collaborate together.
To limit "unneeded" contact between players during the start of the cheer and football season, stunting has been postponed to the third week in October. I would personally argue that stunting is a necessity to the sport of cheerleading, especially to get ready for our own competitions. However, the start of the season can then geared towards other aspects of routines. When asked about the wait to stunt, Lucy Nash said, "I'm okay with that. I think that because we've been away from each other for so long, we do need to start with the basics first and really get our sideline going… and just get everyone excited."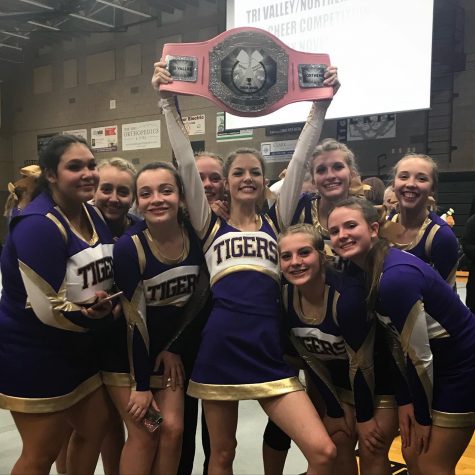 Cheer routines take months to polish. There are multiple aspects of the routine, and each need to be flawless to get the maximum score and be able to advance in competitions. Holy Family Cheer started competing in the new Game Day division last year, and plans to do the same this year.
And after taking the league title, the pressure is on. We are hoping there is a competition season – and if there is, we're ready to win. "As of right now competitions are still scheduled for season B and C. They're thinking that league competitions will happen between mid and end of January, and state is scheduled for February," Nash said.
There are four parts of a Game Day routine: the band dance, a defense/offense cheer, the team cheer, and the fight song. Stunting is an important part of each aspect of a cheer routine, and to further advance stunts for higher scores requires months of practice. The sooner we can start stunting, the better our overall routine will be. October is a little late to start, but at least stunting is in our near future and we have something to look forward to.
Fans coming to the games is still a no, and there is no set time for when, or if, that will change. Having no fans will greatly affect the football boys' performance, so the cheerleaders have a lot of cheering to do. It won't be the same as having fans at the games, but I hope we can give our team enough support to play hard and make big wins.
Even in all the chaos, we have a job to do. As cheerleaders, we will do our best to cheer on the football boys and boost the overall school spirit of Holy Family.