Hard Working For A Purpose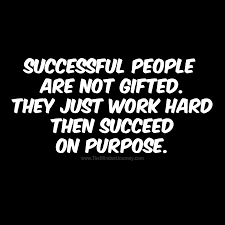 There are many Holy Family students who work jobs outside of school. Some students may work because their parents make them. Each teen worker has a different purpose for working. I am very sure that there are many different struggles that come with going to high school and working a job on your free time.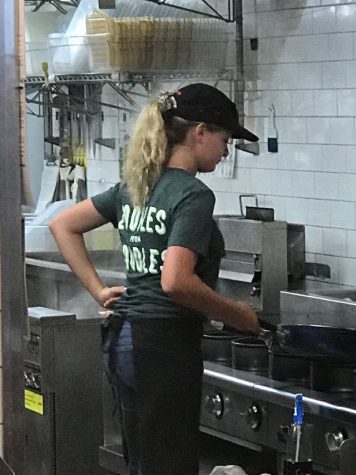 Lindsey Bartoletta works at Noodles and Company. She truly enjoys working there  because she loves to cook and loves the people she works with at her location. Lindsey stated, " I really like working with customers and assisting them with their orders."
Lauren Davis works at Kings Soopers. Working at Kings Soopers is somewhere she really enjoys working because of the community. Lauren said, " Being surrounded by such great people every weekend is a blessing."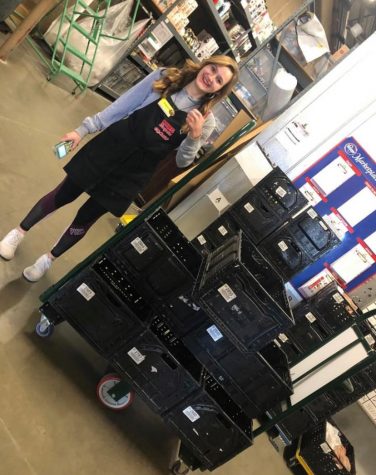 Lindsey's purpose for working is that she likes the extra money to spend on shoes and clothes. I mean who wouldn't love the extra money? Having a committed job also really helps her looks amazing on her college resumes. Lindsey has been working at Noodles for over a year so it helps her have a leadership position on her resume.
Lauren's purpose for working before the pandemic was to get money saved for college. During the pandemic, her purpose totally changed. Lauren states, "As COVID hit, I realized my job was more than money. It was a community of people I trusted and cared for in which I have created friendships."
A huge struggle for most high school workers is getting their class work done in time and not falling behind. One of Lindsey's struggles is having to close at 10 and be home to wake up early in the morning for classes additionally, her manager will often ask her to cover a shift after along day at school so it often interferes with school. Lauren says that her main struggle is time management. She has to balance time at work and school. If she has free time it's usually spent doing homework and studying. 
Benefits for Lindsey at her job are that she absolutely loves the social aspect of her work. Her work also gives her something productive to do and make a good check to compensate for her time. Lindsey works around 2-3 days a week, so about 15 hours. Some benefits for Lauren are that work is a great distraction from the stress of school and it forces her to stay on top of schoolwork, which has been super helpful for her. She has also learned great life skills such as leadership, experience, multitasking, and handling money. Lauren works 3 days a week and about 24 hours. 
Each teen worker has their own set of struggles and purposes for working that are fitted to their lives. Benefits usually always come along with struggle. The benefits of working are more rewarding in the end even though the struggles may seem impossible.