Football finally gets the go ahead for Fall 2020
A majority will play six week Season A, other to stick in Season C
It is no secret that there has been a lot of questions and speculation of how the seasons for Fall sports are to play out for us athletes and coaches. With the decision finally being made by Colorado High School Activities Association and Governor Jared Polis as well, our districts have made the decision to let us play.
The options will still be open to play in the Spring along with the ability to play through seasons in the Fall as well. With decisions made, the air is still not clear in Colorado about the smaller aspects of the season and how athletes were affected.
Back on August 4th, the decision was pushed to the Spring and athletes minds were set on next year for football. Workouts were cancelled for many, and athletes switched to sports that were available to them in the Fall. Then the question came up again of whether we were to play. This rushed many athletes into a state of panic and worry about what was to occur. Tension and anxiety built up for many waiting for the new answer which was strung out for very long before a finalized decision.
After a grueling process, the board of directors for CHSAA once again voted against the season, hence finalizing the Spring season. This was a big relief to athletes who felt unprepared for a two week notice on their sports, or so they had thought. The question was once again opened up for the season in the Fall and after much waiting and debating among the higher-ups, the decision was once again made, but this time in favor for the Fall season.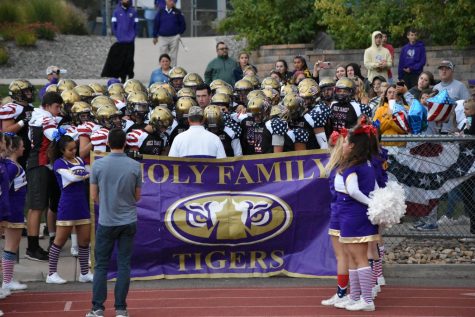 What these decisions are not taking into consideration, is how this will be affecting athletes, and the functionality of their seasons. Myself along with other football players and athletes across Colorado have been non-stop bounced around between decisions being made for us without us realistically having a say in it. When it comes down to it, our coaches will be the ones coaching and we will be the ones playing when the time comes.
The decision that has been made will be affecting other athletes in regards to the ones who switched up sports and already have gone deep into their seasons. These athletes are going to be forced to make a decision that realistically was made for them back on August 4th.
Denver Public Schools and Aurora alike have opted out of playing in the Fall season and will remarkably have a chance to win a "state title" in Season C. This will mean that teams scheduled to play them this Fall will be moved around in order to have functioning schedules. It is very confusing for all of us and most questions are still being left unanswered with half of the state saying one thing the other half saying the other.
I am very grateful to know my season will be happening along with other athletes alike. If the decision to play was just going to happen, it would have been nice to know back in August, that way players and coaches alike would be in the correct mind set ready to play instead of all of this back and forth that has occurred in the past months.
With whatever is to happen in the coming weeks, athletes will just have to adjust and be ready to compete. I am confident that my team and I will be prepared to play to the best of our ability come game time.
HOLY FAMILY 2020 FOOTBALL SCHEDULE
Dates and Times, TBA
Week 1 — vs. Niwot*
Week 2 — vs. Lewis-Palmer*
Week 3 — at Discovery Canyon*
Week 4 — vs. Mitchell*
Week 5 — at Lutheran*
Week 6 — vs. Pueblo Centennial*
*- denotes league game