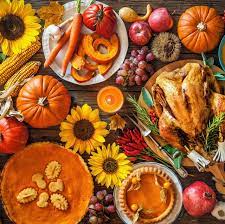 Thanksgiving is just a couple days away! Before we know it it will be Christmas time.
Thanksgiving originated in Plymouth, Massachusetts. The Wampanoag colonists and Indians shared an autumn feast in 1621 that is known and acknowledged to be the first celebration of Thanksgiving. The first Thanksgiving was on Thursday November 23, 1621. This holiday was widely celebrated but up until 1863 in the middle of the civil war it was not considered a holiday. In 1863 president Abraham Lincoln proclaimed every third Thursday of November to be the national holiday dedicated to Thanksgiving. However early Native Americans believed that the celebrating was made to mask the bloodshed and conflicts between the Europeans and the Native Americans. Although some had negative opinions on the holiday many liked the idea of a day of thanks and began traditions on this day. It has lots its negative reputation over time.
Thanksgiving has a lot of traditions associated with the holiday. Some are practiced by all and some differ from family to family. Usually a Thanksgiving dinner consists of foods such as turkey, mashed potatoes and gravy, cranberry sauce, pumpkin pie, stuffing, apple pie, yams, rolls, and vegetables. Some families may have ham instead of turkey, which is usually a family preference. Dinner is usually the main attraction on this holiday as well as giving thanks for everything on this day.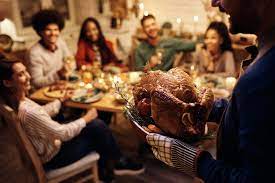 Another tradition many families have on Thanksgiving is participating in a TurkeyTrot Run. There are many different ones you can participate in in the Denver area. The Mile High United Way Turkey Trot is at Mile High at noon on Thursday, Run Denver Mile High City is a 5K on Saturday from 6-11am, and the Turkey Trot on Thursday in Denver. Many of these runs are charity runs that raise money for local charities. Many also have food drives and then take the food to families so that they can have a Thanksgiving dinner. Some also have toy drives to begin collecting for Christmas toy donations.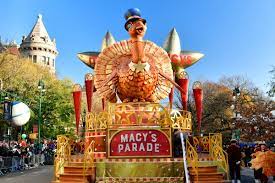 Another common pass time on Thanksgiving is watching football. This year the Dallas Cowboys are playing the Detroit Lions. This is a day of rest for a lot of people because no one has to work. So you may find many taking naps and relaxing on their break. The Macy's Thanksgiving Day Parade also will be watched by many. This parade happens every Thanksgiving from 9 to 12 Eastern standard time in Manhattan, New York. This parade is nationally televised every year since 1953. The parade was created to give thanks and to cherish the traditions from older times. The parade usually has over three million spectators and is a great opportunity for advertisements to get seen by the media. It consists of many floats, balloons, celebrity appearances, and performances. This year the parade will begin at 8:30 AM EST.