The Heisman Trophy has been given to the best college football player of the year since 1935. Throughout its history, the trophy has been given out 86 times, with only Archie Griffin of Ohio State winning the award twice. This year, there is a very competitive race for the Heisman, where really one of three players have a realistic shot at winning the trophy. Based on my personal opinion, I think the frontrunners to win the Heisman are QB Michael Penix Jr. (Washington), QB Jayden Daniels (LSU), and QB Bo Nix (Oregon).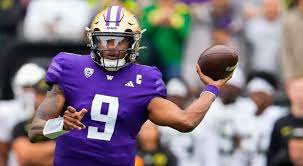 1. QB Michael Penix Jr.
Michael Penix Jr. has had a very impressive season with the Washington Huskies this year. He has thrown for 3,533 total yards, as well as 28 touchdowns and 7 interceptions. Penix also boasts a 68% completion rating, which ranks 13th among active FBS quarterbacks. With weapons like WR Rome Odunze and WR Ja'Lynn Polk on his offense, Penix has been given every chance to lead the Huskies to the College Football Playoff, and he has been up to the task. Washington is ranked #5 in the nation in the most recent playoff poll, and they also have the 6th-best ranked offense in the country. Penix will have the chance to put up some big numbers against (10) Oregon State this weekend in Corvallis, where he also looks to improve the team to 11-0 on the year. With an impressive statline on the year and an impressive offense to support him, I believe that Michael Penix is the frontrunner for the Heisman and that it's his to lose at this point.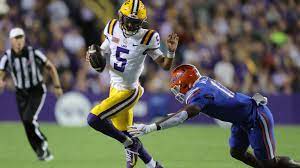 2. QB Jayden Daniels
The only other player I could see really challenging Penix in the final race for the Heisman is LSU's quarterback Jayden Daniels. Although the Tigers are 7-3 on the year, their offense currently ranks 1st in the country, as they average 560.2 yards per game and 8.41 yards per play. Daniels is coming off a recent 52-35 win over Florida on 11/11, where he combined for 606 yards, 372 passing and 234 rushing. Daniels became the first player in FBS history to pass for over 350 yards and run for over 200 yards in a single game as well, which certainly boosts his stock as a Heisman candidate. Many people argue that Jayden Daniels shouldn't be given the Heisman since his team isn't in the Top 10 and have lost to Ole Miss, Alabama, and FSU, but that really shouldn't mean anything. Tim Tebow won the Heisman on a 9-4 Florida team in 2007, and Lamar Jackson won it on a 9-4 Louisville team in 2016. Record shouldn't mean much in the Heisman race, and because of Daniels' explosive capabilities and consistency as a passer, I believe that he is the only legitimate threat to Penix in the end.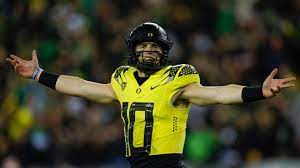 3. QB Bo Nix
Lastly, I think Bo Nix has a case to make for the Heisman. His offense at Oregon ranks 2nd in the country, only behind LSU, and he ranks 2nd in the nation in passing touchdowns. Nix currently has a 77% completion rating and boasts an impressive 29 touchdowns to 2 interceptions, which is the best ratio among active FBS quarterbacks. The Ducks are currently ranked #6 in the most recent poll, and I think with a very impressive showing in the next few games Nix could sneak into the playoffs. Of course only time will tell, but I Oregon is in a very good spot with Bo Nix leading their offense. In the end, I really like Bo Nix as a player, but I feel that it will take a lot for him to win the Heisman over both Penix and Daniels.