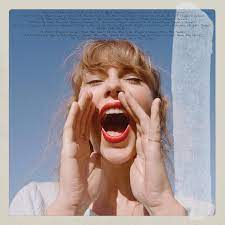 After 9 years, the re-recorded version of 1989 is already on track to break original records, according to Billboard.
1989 (Taylor's Version) extended tracklist with six songs From The Vault has already broken the record for the most-streamed album in one single day, breaking a record previously set by Swift's album "Midnights".
1989 marks a very important stage in Taylor's career, when she went against her label's wishes of the more country sounding music to pop music. She was determined to fully embrace these sounds she had been playing with. She said in 2014, "It was all on me if this didn't work", but it did in fact work. 1989 is Swift's most popular and best selling album to date. 1989 generated three No. 1 singles and won album of the year at the 2016 Grammy Awards. She had also relocated from Nashville, Tennessee to New York City, New York. But for Taylor, 1989 represented more than just a change of city, it changed her music career and the music industry forever.
1989 had cemented Swift making music on her own terms. Nine years later, she is re-releasing this work of art again. Her first six albums were sold against her will four years ago. Swift decided to get back by recording her past albums. She's been redoing her old songs, fixing some lyrics, sharing songs that were never released before, and reminding everyone of all the music she's made, not just the new stuff. She's been doing this while performing on her Eras Tour and when The Eras Tour movie came out in October. This new version of her "1989" album released on October 28th wasn't just about looking back at the past; it's about remembering why and how Swift became a famous pop artist almost ten years ago. Even Swift herself sees it as a turning point in her career and personal life, like a fresh start.
1989 (Taylor's Version) set a record for the highest sales in a week since her album "Midnights" was first released, with 1.14 million copies sold by October 27, 2022. The streaming version of "1989 (Taylor's Version)" with 21 songs also had a big success, getting over 307 million streams in the first five days. This is the highest streaming week for any of Swift's four re-recorded albums. "1989 (Taylor's Version)" is available in many different physical formats, including vinyl records, CDs, and cassette tapes. There are also two digital download versions, one with 21 songs and a deluxe edition with 22 songs, featuring a re-recorded version of "Bad Blood" with Kendrick Lamar. Taylor Swift's most streamed album in a week is still "Midnights," which had 549.26 million streams since it was released on October 21, 2022.