Fighting between Israeli and Hamas forces has been severely escalating recently especially in the northwest of the Gaza strip. A group of Al-Qassam soldiers has fired anti tank missiles on Israels forces.  Israels Defensive forces also said that they have hit around 300 Hamas Targets over the past day.  They said the targets they hit consisted of Anti Tank missile posts, rocket launch posts and underground compounds.
IDF spokesperson Jonathan Conricus told MSNBC in a TV interview. "There are ground units of the [Israel Defense Forces] that are expanding the activity in northern Gaza, we're operating there with what we call joint combat teams, on the ground, joint in the sense of ground forces, air and sea cooperating together, seeking to establish contact with the enemy, engage with him, and then use our capabilities to strike the enemy,"  Israeli Prime Minister Benjamin Netanyahu also said that he would not agree to a cease fire with Hamas, saying "it would be a tantamount to a surrender"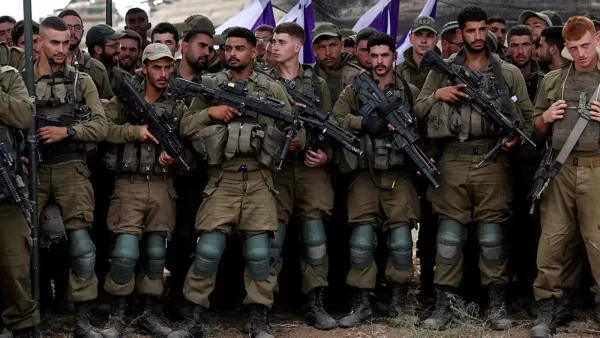 This War has used numerous types of warfare to try and weaken the opposing side these types include:
1. Rocket Attacks and Air Strikes:
– Hamas militants launched barrages of rockets towards Israeli cities, including Tel Aviv and Jerusalem, triggering sirens and forcing millions into bomb shelters.
– In response, Israeli Defense Forces (IDF) conducted extensive air raids targeting Hamas infrastructure, rocket launch sites, and other militant installations throughout the Gaza Strip.
2. Civilian Casualties:
– The conflict's toll on civilians has been devastating. At least [number] Palestinians have lost their lives so far, including women and children.
– On the Israeli side, several casualties have been reported due to rocket attacks by Hamas.
3. Humanitarian Crisis:
– Gaza's already fragile infrastructure has been severely impacted by airstrikes, leading to significant damage to
services such as electricity supply, water resources, medical facilities, and sanitation systems.
4. International Diplomatic Efforts:
– Global leaders have intensified diplomatic efforts to halt the fighting. The United Nations Security Council held emergency meetings but failed to reach a consensus on a joint statement due to differences among member states.
– The United States dispatched senior officials to engage with both sides in hopes of facilitating de-escalation and a lasting ceasefire. Similar efforts are being made by Egypt, Qatar, and other regional players.
5. Regional Spillover:
– The conflict's impact is not limited to Israel and the Gaza Strip alone. Violence has also increased in other areas, including clashes between Jewish-Israeli and Arab-Israeli communities within Israel.
– Also, tensions have risen along Israel's borders with Lebanon and Syria, where sporadic rocket fire from non-state actors targeted Israeli territory.
6. Cyberwarfare & Information Dissemination:
– Alongside physical hostilities, both sides have engaged in an online battle of disinformation campaigns, seeking to shape public opinion on social media platforms.
– Authorities are actively combating false narratives while urging citizens to exercise caution when consuming news related to the conflict.
As the violence continues unabated, calls for an immediate ceasefire grow louder within the international community. The situation remains precarious, with civilians caught in the crossfire and fears of further escalation persisting. All eyes now turn towards diplomatic channels as world leaders strive to bring an end to this deadly cycle of violence that has already inflicted immense suffering on both Israelis and Palestinians alike.