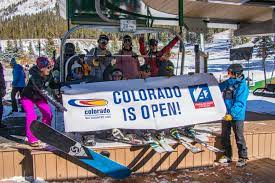 Late on Friday night (Oct. 27), the Denver metro area received its first snow of the season. To the happy surprise of many, the storm did not slow down until early Sunday morning as most of the front range accumulated between seven and 11 inches of snowfall. With that being said, skiers all across the state are now asking the obvious question: "When will I be able to ski?!" Fortunately for them, snow technicians throughout the rockies are hard at work prepping the slopes for another great season.
Here is all the information that we have so far regarding major resorts:
Arapahoe Basin: As expected, A-Basin was the first ski resort to open in Colorado for the 11th time in the last 13 years. The lifts started spinning on October 29th, 6 days later than last year's October 23rd opening date. Information regarding the start of Colorado skiing was released via Arapahoe Basin's instagram, "We will open on Oct. 29 and run operations seven days a week for as long as possible. Lifts start spinning at 8:30 a.m. on weekends and 9:00 a.m. on weekdays."
Keystone Resort: As the second resort to open in Colorado, Keystone will have limited terrain available but will open on Wednesday, November 1st. There will be access to two trials, Schoolmarm and Silver Spoon, that will total to two miles of intermediate and beginner terrain.
Winter Park: The Gemini Express will be spinning at 9a.m. on Friday, November 3rd, serving limited terrain. For opening day, there will be two runs open, Village Way and Lower Parkway (via @winterparkresort instagram). Resort staff also released the following information regarding early season skiing and riding: "If you need a pass or lift ticket, visit Balcony House from 8am-4pm or pop into Village Rentals. Derailer, Doc's, Bradley's, Waffle Cabin, Pizza Pedal'r, and Starbucks will be keeping you fueled."
Eldora: As a smaller resort with a tight knit vibe, Eldora does not have the same magnitude of snow making resources as other ski areas and therefore tends to open a little later than a lot of the destination resorts. However, this season the local favorite hill will open in tandem with Winter Park on November 3rd. On November 1st, the resort released information regarding trail access for the opening weekend: "Beggining Friday, Alpenglow chair will spin 9:00-4:00, seven days a week, during early-season operations, weather and conditions permitting. A full 1,000 vertical feet of terrain will be open, including Hornblower, Klondike, and International trails, plus a small terrain park offering near West Wing Lodge. We'll have fresh-baked muffins for the first guests in line, live tunes from Godlazer (Local DJ), and those down-home feel-good Eldora vibes you've been missing since last winter!"
Copper Mountain: Copper has always been known to not rush the process of opening, and they will stay true to that this year. The official opening date is November 13th. Although that is late compared to many other resorts, skiers and riders can expect a large area of open terrain from the get-go.