Welcome back to another Fat Man Review and our quest to find a secret menu item that could defeat me. None have been successful yet and we've gone through the Meat Mountian and the Mega Quesadilla.
And thanks to your votes, for some god-forsaken reason, this week's challenger will be the McDonalds Monster Mac in honor of Halloween. And true to its name it is an amalgamation of pure monstrous trash.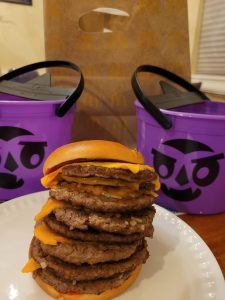 The Monster Mac is a normal Big Mac except it has EIGHT PATTIES, eight. For reference, a normal Big Mac has two. So when I put the Monster Mac on the pole to vote on I was praying that no one would vote for it, I was proven wrong. But even with the terrifying description, I wasn't angry as I thought it would be another Gargantuan where it was just a big sandwich and tasted not terrible.
This also was a first time when the first person I talked to had no idea what I was talking about, "What's that," said worker 1; "Oh s*** that's the thing from TikTok with like eight patties," said the guy at the actually working the window. After we had a long discussion on what in the name of heck I was asking for and having to be charged with a weird assortment of items, I finally got our food and it looked terrifying.
From the get-go it was already it was a struggle. I could legit not fit this thing in my mouth , even if I unhinged my jaw like an invasive 20 foot long anaconda this thing was not going to fit in my mouth. So I challenged my inner hydaulic press and used almost all of my weight to squish this thing down to a more manageable size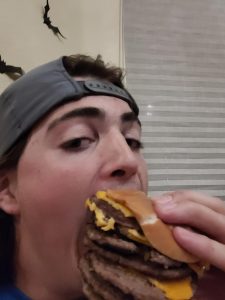 Even with the atomic fat man press power this beast was still massive and I could only take a small nibble at a time. Each bite just got harder and harder, the only thing that made it somewhat bearable was the extra cheese slices they put in to keep this thing from collapsing in on itself like a dying star. I couldn't even get a funny picture as I was just so focused on staying undefeated against food.
The worst part of the burger was the taste of the onions were so overpowered that even a Genshin Impact player would say it needed a shower. I am not even joking when I say the taste was so strong I am still shivering when I smell anyone attempt to cook with onions almost an entire week later.
Oh and how could I almost forget about the part where it was equivalent to  FOUR BIG MACS in all ingredients excluding the bread and the pickles, so yes I could not breath correctly after it was said and done, I needed a little break.
This was a battle, constantly going back and forth, never knowing who was going to come out on top then again I am him and remain undefeated as even the Monster (heart clogger) Mac could not beat me.
McDonald's isn't known for having the healthiest options to begin with, I mean there are still active debates on what is the meat in their famous chicken nuggets (my guess is dog), but this thing was on a different level. Okay, so the food wasn't a bad quality but I could feel the grease and fat go through my mouth.
You might be thinking I am just describing an amazing juicy Angus beef burger, I am not. I am describing a meal that makes you feel dirty, just knowing you are almost 1400 calories of mystery meat makes you think about what went wrong in your decision-making.
So in total I will give it a 4.2 out of 5 for price because again its McDonalds and for the equivalent of four Big Macs at only eight bucks wasn't too bad. A two out of 10 for the actual food portion, aka if you hate yourself and want to see yourself cry then I would recommend this. And finally since this beast was by far our most challenging I will give it a 9.3 out of 10 on the food challenge scale and since the smell of onion is still affecting me almost a week after. Bringing our Grand total to 15.5 points, but since this is my review and I have no idea what I am doing anyways I am going to put this at the top of the list as the most challenging item yet, finally dethroning the wretched Meat Mountain.