Kansas City Chief's tight end Travis Kelce publicly talks about Taylor Swift's Sunday game appearance.
On Sunday, September 24th, the Chiefs took on the Chicago Bears and won by a score of 41-10. Apart from the fans cheering for the Chiefs, much of the attention was pointed toward songwriter Taylor Swift who was spotted at the game by fans. Taylor was seen in a box with Travis Kelce's family. This brought much attention to the media due to the rumors about the two over the past few weeks.
On Travis' podcast "New Heights with Jason and Travis Kelce" Travis says "Man that was a crazy game. It was just action-packed. Shout out to Taylor for pulling up. That was pretty ballsy. She looked amazing." Travis then talks about how he celebrated his win and his touchdown with his mother Donna Kelce with Taylor Swift alongside her in his suite. Donna and Taylor were seen in the suite cheering on Travis throughout the whole game.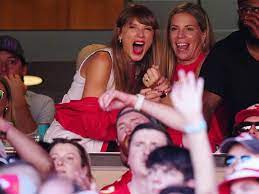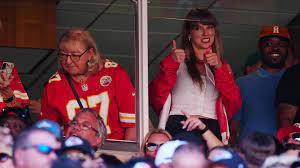 Aside from the Chief's win, Travis expresses his happiness about the good impression Taylor made at the game. He stated "I just thought it was awesome how everybody in the suite had nothing but great things to say about her. Everybody was talking about her in a great light."  This marked the first time Travis and Taylor had been seen together publicly although many sources state that they have been hanging out in recent weeks. This has definitely marked the beginning of a new possible relationship. After the game, the two had dinner with Travis' family.
During the podcast, Travis also discusses that his personal life is important to him and that it is important that he respects his life and Taylor's. He then states how he "sure as hell" enjoyed his weekend and would surely do it again.