The US Open is one of the biggest events in both sports, tennis, and culture. Not only drawing the best of the best in the sport, but also many big name celebrities, crowds come from far and wide to admire the beautifully complex game. As with many large scale events, we often don't know what goes on behind the scenes, however, with the esteemed and highly sought after positions of the US Open ball crew, we at Holy Family have an advantage. This advantage is none other than Sophomore Lauren Stonehocker
For a few weeks at the beginning of the school year, Lauren served as a ball girl. Earlier this week I interviewed Lauren about her experiences at the US Open and to say I'm impressed with her even more so now than before (which I'm not sure was even possible) is an understatement. In order for Lauren to be apart of the ball crew, her and 1,000 other people filled out an online application detailing their athletic capabilities, their tennis experience, tennis scoring, and general tennis knowledge and rules. Of the 1,00o applying, around 200 were former ball crew members hoping to get a spot once more. If you were one of the lucky 300 (or so) people selected for the in person tryout, for 30 minutes you had to perform tasks such as suicides, ball rolling, ball throwing, and game simulations. Within a week you would know if you had made the cut, this cut being a slim 100 people compared to the 1,000 person applicant pool you started in.
Lauren is no stranger to tennis herself though, as she was undefeated the entire regular season at 2 doubles and only lost one match during last years individual state. Her and her partner Avery Alderman (Sr) ended up getting 4th at individual state and were State Runners Up at tea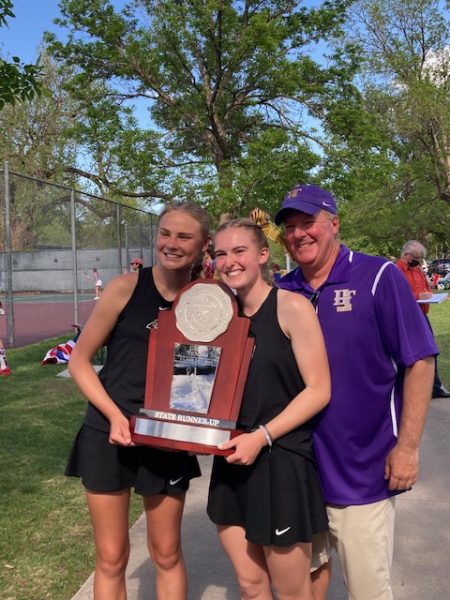 m state. With all these accomplishments being within her freshman year, I think it's safe to say that Lauren is extremely deserving of this prestigious position.
For Lauren some highlights were getting to see Venus Williams practice, service an energetic Colombian player, and watch the Women's Singles Final. When asked what from this experience showed her what tennis should be, she responded:
"The Women's Final, they're so top tier, and even after they're done playing they're so nice to each other and they're not competitive anymore and just show good sportsmanship, and that's what it's meant to be"
Now that Lauren has returned to Holy Family we look to the next season with fall hit arounds while the weather is still nice, and yet one can only imagine the New York skylines and Ralph Lauren uniforms that have a little home in the back of her head. All I can say now is welcome back Lauren, and good luck on your next season!