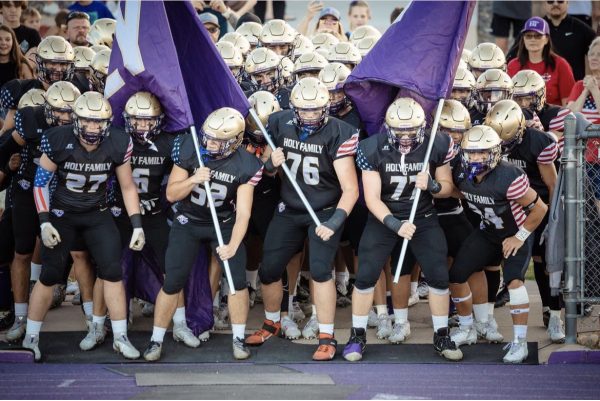 Holy Family football is having a great start to their season. It is week five for the tigers and they are dominating the field. The team is 3-0 and they are showing no signs of fumbling this winning streak. The tigers asserted their dominance in game 2 when they beat Broomfield, the state champions last year. We are all very excited to see just where the season takes this team.
I met with some of the players and they all have very interesting things to say about their season. Landon Peters, number 33, said, "Our season is going pretty good, you know? We only started 5 weeks ago, so you know, not a whole lot of action, but you know I'm that special teams demon, I like making tackles, thats all". Landon proceeded to say that he wasn't sure how the season was going to end up, but he was hoping for the best and think that they have a real chance at a state championship.
Cooper Bigelow, the teams kicker, also had very insightful information to share with me. He said, "I love playing football because I get to kick the ball when we score". Cooper, along with Landon, also has high hopes and is ready to put in the work for a championship. Jaxon Grable, the wide receiver, has different opinions about the team. He said, The season is going… alright. I mean, were 3-0, but were honestly not that good". While Jaxon is not as optimistic as his teammates, he is still hoping that the team will be able to take it all the way to a championship.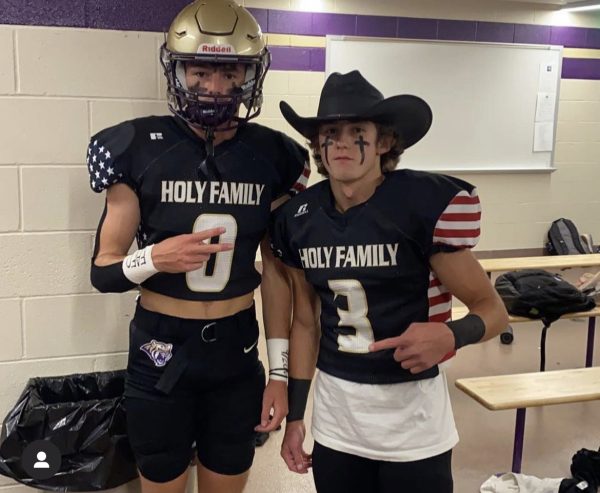 I asked some Holy Family students about their prediction for the game against Roosevelt and the rest of the season. Newspapers, Maddy McGee, thinks that the score will be 64-48 and that they will make it all the way to the championship solely based on Ashton Erickson's skill set. Michael Barela thinks that the score will be a close one, 64-63, and that they will at least make it to the playoffs. Now, we wait and see how this game will turn out and how it will progress the rest of the season.