Welcome back to another addition of Fat Man Review. However this week in honor of national burger day/week I'll not be going over a "secret" menu item, instead this edition of Fat Man Review will be on the new ultimate loaded Nacho burger at Wendy's.
I was not planning on doing a Fat Man Review on the Loaded Nacho Burger until on National Burger Day itself. I walked in with my friends after practice to take advantage of the one cent burger and I see this billboard that is advertising this burger that looks like it was just sent by God and the Heavens above.
Now Wendy's already has one of the best burgers when it comes to fast food, with their fresh ingredients, never dry cheese , and how could you forget about Wendy's having actual beef for their patty's and not just gray  pucks. But along with all of that, this bad boy has a beautiful mouth watering jalapeno cheddar bun, nacho cheese drizzled on, crunchy tortilla strips, along with an awesome chipotle sauce that gives just enough kick.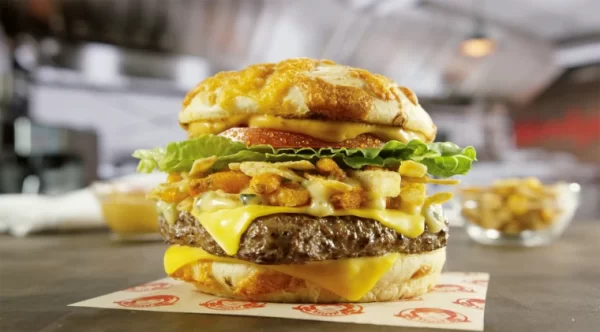 I will say this burger was a bit messy, but any food item is scientifically proven to be 76 percent improved in flavor so it only added to the flavor. The only complaint I have for this burger is that each bite was so uneven. Some bites were just overflowing with the chipotle sauce and the nacho cheese, where as others were just a normal plain cheeseburger it felt like. However that could just very well be because of the location itself and not the norm for this burger.
That being said this is a great burger and is close to rivaling the Jr. Baconator for the second best burger at Wendy's.