The War in Ukraine has not been getting as much attention from the media as it once did. But unfortunately this does not mean that the war is over.
It has been 563 days since February 24, 2022 which is when Vladimir Putin and Russia first invaded Ukraine. The invasion began in the eastern Ukrainian territory of Donbas. Zelenskyy declared martial law in Ukraine and officially broke diplomatic ties with Russia. Rightfully so, Putin's actions were condemned across the world and within Russia.
On December 21, 2022 Ukraines president Volodymyr Zelenskyy, made a surprise visit to the White House. This occurred shortly after President Biden announced the United States would announce the Patriot Missile System, which cost roughly 2 billion dollars.
To this day it is estimated that the United States has given Ukraine 76 billion dollars in support. This total is made up from a lot of different things, the two main categories being financial support and military arsenal.
On top of the 76 billion dollars we have given them for support in the war efforts, the United States Congress appropriated $4.65 billion in Foreign Military Financing, which allows Ukraine or allied partners grants or loans for military gear.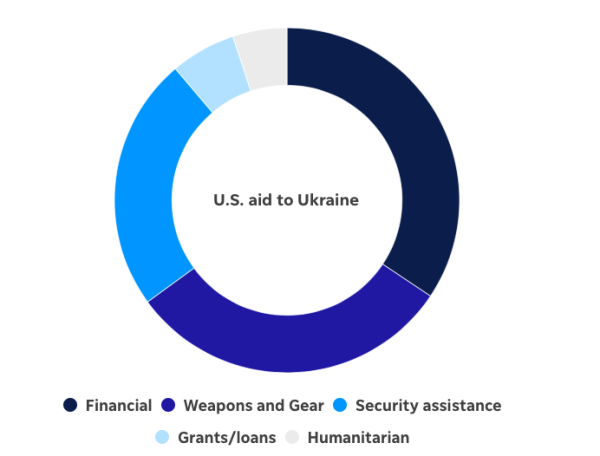 Above, is a pie chart depicting what exactly the 76 billion dollars has gone towards.
In February of 2023, just days before the one year anniversary of the initial attack made by Russia, Biden made a surprise visit to Kyiv, which is the capital of Ukraine. While in Kyiv, Biden announced $500 million in additional assistance to Ukraine as it defends itself from Russia and he declared, "One year later, Kyiv stands. And Ukraine stands. Democracy stands."