Welcome back to another issue of Fat Man Review and this week we will be continuing our journey to find and conquer, every hidden menu item there is on big fast-food chains. This week ladies and gentlemen we will be going over Jimmy Johns Sandwiches' gargantuan sandwich.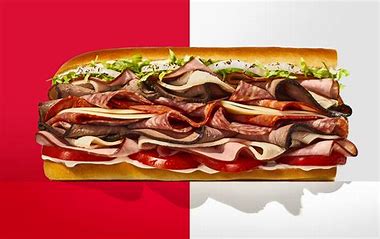 Now going into this week I was still very excited as you all may know I am huge fan of everything food. But the memory of the Meat Mountain from Arby's still burns fresh into my mind. That Everest of Meat took me by surprise in both how big it really was and how hard it was to eat. That sandwich was one of the few food items that have ever bested me in my 17 years of life and that's why I would not really recommend it for anyone as a normal food item. But definitely as a food challenge.
Knowing this, when I was recommended Jimmy John's gargantuan sandwich by our other resident "heavy set champion" Mr. Yunt  and based on the picture he showed me of just the entire frame being taken up by the one sandwich (kinda like me on picture day). I was only expecting the driest, blandest, most hard to fit in my mouth thing ever.  This was not the case.
Much like with the Meat Mountain, when I ordered it the nice cashier lady plopped it right into the system. Immediately she got to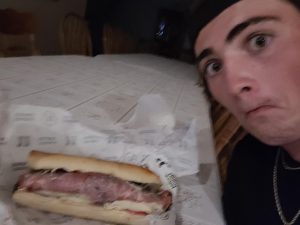 work on it, making a masterpiece of proteins, glucose, and carbohydrates.
At first I just ordered the sandwich thinking it would be enough to knock me out for the night. But when the lady finished it kind of disappointed me in its size, so much so that I got it with and entire meal.
Now its time for the best part, actually tasting the food. When I got home to this thing I was excited but again, I thought it was going to be bland and dry as heck. Oh man was I dead wrong. I have not tasted a sandwich this good ever (excluding sausage and meatball). It had ever type of meat in Jimmy Johns menu, it had just enough cheese. Not too much to where it over powers the taste but just enough to still taste its presence. I am ninety percent sure that she put some Italian dressing and mayo/mystery sauce that along with the lettuce destroyed my previous hypothesis. I have never scarfed down a sandwich that fast and enjoy every-single-bite like I did for this sandwich.
As far as food goes, I give it a 9.5 out of 10 which just goes to show how awesome I thought this was, along with a 3.5 out of 5 for the price. However, the only drawback is that I was kind of disappointed in the whole food challenge part of it, as I was able to take a good-sized bite every time, basically it's a bigger sandwich. For that I give it a 4.5 out of 10 for its food challenge rating. This means that the total score is 17.5, putting it an entire point above the Meat Mountain in our current quest.