The Fall Season is approaching, and with Fall comes one of the best holidays; Halloween. You may find yourself with extra time on your hands and want to watch a movie. Here's my top 5 Halloween/Horror movies to watch this season.
5) Trick r' Treat
This somewhat old film from 2007 is beginning to become a classic. It's about the consequences of extinguishing a Jack-o-Lantern before midnight and a grumpy hermit's encounter with a sinister trick-or-treater. This funny horror film is an hour and 4o minutes long and if you haven't seen it you're missing out.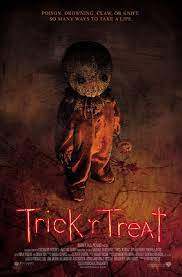 4) Scary Stories to Tell in the Dark
This recent film from 2019 is about a family's dark past and their daughter, Sarah Bellow, expressing her torture. She wrote terrifying tales that were thought to have come to an end, until Stella and her friends discover the book Sarah wrote in and the stories start to come to life.
3) Candyman
This 2021 film is about a supernatural, hook-handed killer. An artist in Chicago begins to explore this serial killer, not knowing it would unleash a wave of horror. This is a great modern day horror film that you should watch if you want a scare.
2) Hocus Pocus
This 1993 Comedy/Horror film is an original. Two teens investigate an abandoned house, and unintentionally release three witches who turn them immortal. They have to race against time to try and turn themselves back before its too late.
1) Halloweentown
This 1998 Classic is about a grandma and her grandchildren who come from a family of witches. They find out their grandma lives in a supernatural town called Halloweentown. This film is classic, and the start of a very good franchise that you should watch if you have not yet already. This easily takes the cake as the best Halloween/Horror film I've personally seen.