Viktor Hovland was born in Oslo, Norway, in 1997. Hovland grew up playing soccer and doing taekwondo, not learning to play golf until after his father brought back a set of clubs following a business trip in St. Louis, Missouri. Hovland began learning to golf at the age of 11, and he soon discovered that he was a very talented golfer. After years of practice through his teenage years, Hovland committed to playing Division-I golf at Oklahoma State University in Stillwater.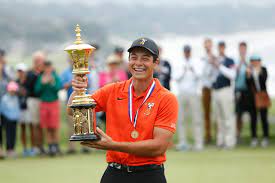 Hovland played at Oklahoma State from 2016 to 2019, where he made quite a name for himself placing highly in many college and amateur tournaments. A three-time All-American, Hovland won the 2018 U.S. Amateur tournament at Pebble Beach, a milestone in his career as a rising professional. After that tournament win, he received invitations to the Masters, U.S. Open, and Open Championships in 2019 as an amateur, becoming the first ever Norweigan-born player to ever play and make the cut at the Masters.
Hovland was quickly promoted to the PGA Tour after playing as an amateur, and he has been a top contender since his debut. His first PGA Tour championship win was in 2020, when he won the Puerto Rico Open. With this win, Hovland became the first Norwegian-born player to ever win a PGA tournament.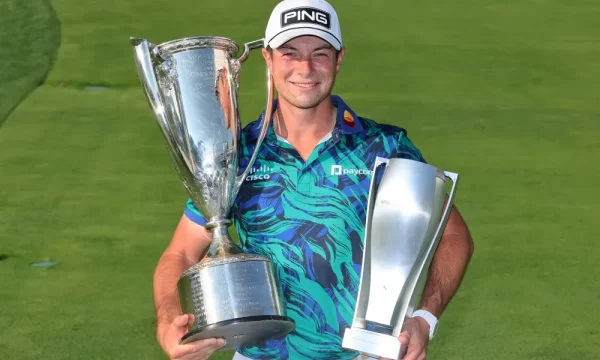 Having always been in title contention, Hovland has really stepped up his golf game over the past few months. He placed 2nd at the PGA Championship at Oak Hill Country Club in May of 2023, and he has only gotten better since this performance. Since this performance at the PGA Championship, Hovland has won three championships, placing first at the Memorial Tournament, BMW Championship, and Tour Championship this summer.
Of course, with the trophies of these tournament wins comes a large payout – Hovland earned over $18 million dollars at the FedEx Cup alone, and in total he has earned over $34.5 million.
Hovland's story has been a classic story of a talented new golfer rising through the ranks of professional golf, and there's no sign of this young pro slowing his game down anytime soon.