Its that time of year again, and college football week one is right around the corner. I like to think of myself as a huge college football fanatic, and here are my predictions for Week 1.
Although there were already games played on the 26th of August, that is considered Week 0, the week 1 games are from Thursday, August 31- Monday, September 4th. There are a lot of games for fans to look forward to, and I am going to give my predictions on some of the better/bigger games.
We start off Thursday with a huge game between the Florida Gators. and the Utah Utes. Last year these two teams kicked off the season against each other, which ended up being a very entertaining game, resulting in a 29-26 victory for Florida. This year, I think we will see more of the same, even though the Utes are home this time around, and see Florida win in a close game 27-21.
Following that game, on Friday. We have the battle of the Miami's. Where we see Miami (FL) host Miami (OH). Although its cool to see that two schools from "Miami" are playing each other, I think we are all aware that Miami of Ohio does not stand much of chance against the Hurricanes. I'm expecting a blowout in favor of the Hurricanes, 52-6.
Another game on Friday night we see Georgia Tech, and the Louisville Cardinals facing off. Surprisingly, even though both of these teams are in the Atlantic Coastal Conference (ACC), they have only played twice in school history. Georgia Tech has won both games decisively, winning 66-31 in 2018, and 46-27 in 2020. This year, I am taking the Yellow Jackets in a super close game, 35-34.
Then we make the jump to the first official College Football Saturday of the year. It is exciting to watch college football again, however a lot of big schools are playing lesser opponents. Its payday for these small schools when they play teams that everyone knows will beat them. A few examples of this is Alabama vs. Middle Tennessee, Michigan vs. East Carolina, Notre Dame vs. Tennessee State, and the reigning champions Georgia vs. UT Martin.
But in the many games being played Saturday there are still some good ones that I will make a prediction on.
We get to watch the battle of the Carolinas with UNC taking on South Carolina. This rivalry game has been played 59 times, and UNC is 35-20-4. However I am taking the Gamecocks this year in a close game, 41-38.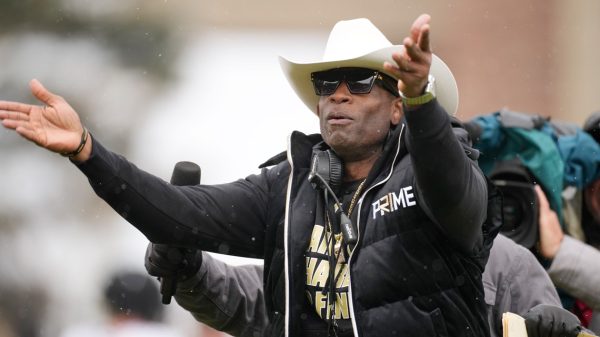 Finally, we get to see what the hype is all about. Coach Prime coaches his first game at CU. The Buffaloes take on last years championship runner-ups, TCU. The game is being played in Fort Worth, Texas. Although Colorado has been the entire talk of the offseason. I don't think this game will be close. Im taking TCU 38-17.
Lastly, on Sunday, we have what I think will be the best game of the week, which is the Florida State Seminoles, against the LSU Tigers. Last year, when these teams faced off, Florida State came out with a crazy one point win (24-23), being ranked #11, while LSU started as the #16 team in the country. This year, LSU is the higher ranked team being just one spot out of the playoffs, as the #5, while Florida State is close behind at #8. For this big game, I am taking the Seminoles in another nail biter, 34-31.
To piggyback off of Jaxon Grable's story on sports betting, If you were to place a 10 dollar, 6 leg parlay on the teams I chose to win the game (Florida, Miami (FL), Georgia Tech, South Carolina, TCU, Florida State), you would profit $625.40.