Met Gala 2023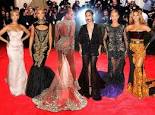 The Met Gala is a charity event held every year for the Metropolitan Museum of Arts's Costume Institute. This Art Museum was founded in 1870 however the Met Gala didn't come around until 1948. The Met Gala was started by Elenor Lambert marking the annual opening of the costume exhibit.
Although this is a charity event, many would view it as the complete opposite. The guest list is always rigorous and carefully looked at, meaning nobody can attend without a formal invite. Each year, Anna Wintour, the editor of Vogue precisely makes this list. The Gala is held at the Metropolitan Art Museum located in New York City. The Met Gala is known for its crazy outfits worn by celebrities made by designers.
The Met Gala is looked at highly by the public because only highly famous people attend, getting an invite is not easy. This year at the 2023 Met Gala the ticket price highly skyrocketed, according to many online sources the ticket price jumped from $30,000 to $50,000. The attendees still had no issue paying this price.
Attending the Met Gala gives these celebrities major publicity. As they make their way down the carpet there are cameras on all sides of the carpet, and all sources are taking photos and will be sharing the photos with the public. Many journalists cover this event along with well-known websites. Each celebrity has their own look that is done by a different designer. Each person's look is different from everyone else's which is why so much publicity is made. Often people's looks are controversial to the public which stirs up a lot of talk about the celebrity.
Some of the biggest names that regularly attend the Met Gala are Lady Gaga, Madonna, Rhianna, The Kardashians, and Beyonce. Along with actors, singers, models, and other big names in the media industry.