A Crowning, a Coronation, and the Grim Reaper
On Saturday, May 6th, at Westminster Abbey, the new majesties were crowned as the new king and queen of England. With more than 18 million viewers, King Charles III was hidden away from the view of the public as he was anointed by the Archbishop of Canterbury and then reemerged to be crowned with St. Edward's crown which is reserved only for the coronation of the new monarch. Next up was Camilla, also anointed with holy oil, but this time is the view of the public. Camilla was crowned with Queen Mary's crown.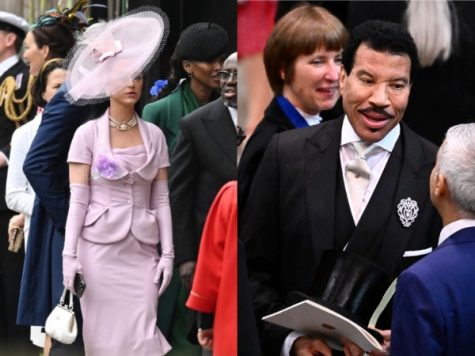 At this coronation, many familiar faces were spotted, the most surprising being Lionel Richie, Katy Perry, Emma Thompson, and U.S. First Lady, Jill Biden. One detail that many were curios about was the "lady in blue." During the ceremony, this woman commanded the attention of the attendees as she hoisted the Jeweled Sword into the air. This woman was Penny Mordaunt, a conservative lawmaker in the UK that is also Lord President of the Privy Council. This body of politicians acts as the monarch's official advisers, thus the president of the council acts as a bridge between the king/queen and the country's elected officials.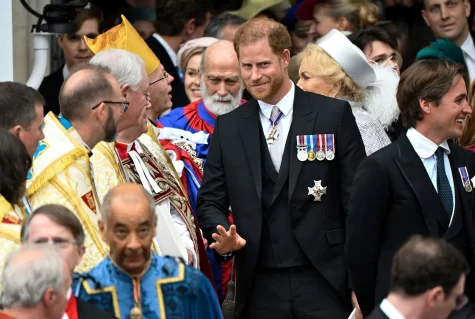 Some members of the royal family were not in attendance as it was seen that Meghan and the kids were still at their California home celebrating Archie's fourth birthday. Harry, however, did attend his father's ceremony and was seen sitting in the third row. Harry arrived with his uncles, Prince Edward and Prince Andrew. Besides his arrival and during the coronation, Harry did not appear to the public with the other members of the royal family, specifically when addressing the public that afternoon at Buckingham Palace. It is understood that Harry did not receive an invitation to join the family at the balcony, a pivotal and significant moment in royal events.
Many close watchers of the coronation noticed a specific looking figure walking past a door after the procession had passed through. This figure looked very similar to that of the Grim Reaper, a character symbolizing death. Of course, this news blew up on the internet and tons of conspiracies are appearing. Many are comparing the figure to Queen Elizabeth saying that she is coming back to haunt Charles and Camilla or that is is Princess Diana, the true queen, coming back to haunt Camilla. The truth of the figure is that it was a verger. A verger is a person who is someone that helps with church services and sometimes carries a rod for a bishop or priest.
Despite royal family drama and Grim Reaper conspiracy theories, the coronation of King Charles and Queen Camilla was a smooth and beautiful ceremony. As of now, Prince William, the first-born child of Charles and Diana, is in line for the thrown, for whenever King Charles decides to cut a rug.