Making a Run For It
This track season record after record has fallen and will continue to fall. One standout athlete this season has been senior Grayson Arnold.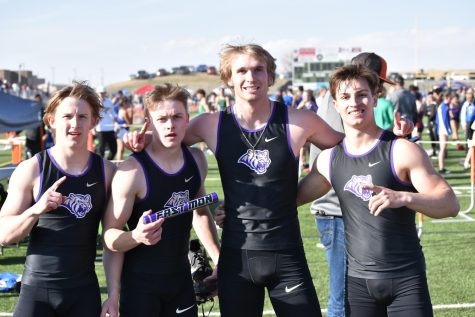 Anyone who has been following the season has likely heard about the impressive 4×100 relay team ran by Griffin Eastman, Pierce Kunz, Dominic Neely, and anchored by Arnold. This team not only holds the school record but the state record with a 42.17  record. Only to be beat by themselves soon after making their new personal record an incredible 42.05 seconds.
Watching them run is unbelievable, it doesn't look real.
Along with his 4×100 record, Arnold holds three other school records. He holds the 1oo record with time of 10.77 seconds. The 200 record running at 21.64 seconds. Finally, the 4×200 which is held at an impressive 1:29.15 record. His 100 and 200 meter dash don't only give him the school record but the state record.
As fast as he is now, Arnold didn't start running track until his freshman year of high school. "I got into track because I always knew I was fast and I enjoy running." Arnold hopes to continue his track career at Baylor University where he plans to walk on next year.
As he continues to break school and state records and turn heads with his speed he hopes to bring home a state title this spring.