From Cub to Tiger…Senior Transfer Alex Austin
For senior year, sights were set a little different for senior transfer Alex Austin. He is a new face to Holy Family this fall after transferring from our rival to the North, Erie, which he attended from his freshman to his junior year, a star athlete on the football field and the wrestling mat. He is more than capable of adding skill to both programs here at Holy Family.
Reasons push everyone to change their mind and directions in what they want to do, but again after two years of a pandemic, it affected yet another student. Throughout facing the worldwide COVID-19 struggles that every school across the state of Colorado was trying to deal with, Erie only allowed their students to learn in person for about 3 weeks of the entire school year, and there was no doubt Austin would want to be in a social setting for his senior year.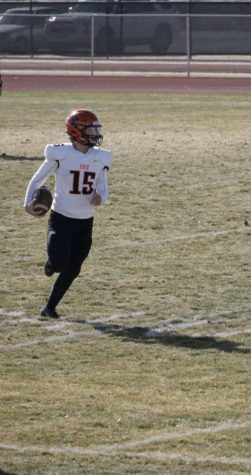 Learning quickly, sticking to his roots and easily embodying the Family title, Alex said the biggest reason he switched schools, besides the pandemic, was to be able to go to high school with his little brother, Camden Austin, who is starting his freshman year at HF. With family being so important to Alex, it seemed a pretty easy decision for him to make if it meant more than just seeing friends. Transferring can bring tough changes to everyone around the students that come to new schools. So far, Alex has found friends within the positive welcoming community at Holy Family ever since his admissions meeting. The counselors and his fellow students have allowed for an easy transition, despite the whole new environment he has been put into.
Transferring isn't easy, let alone doing it in your final year of high school. But for Alex, being an already practicing Catholic and enjoying how he can grow in his faith with his friends, is getting closer to his peers and his self growth as well. Alex's grandparents came directly from Italy, and are strict practicing Catholics, so Alex fit in pretty easily when he was thrown into difficult Faith and Reason classes.
Holy Family has felt like a fairly easy transition for Alex as he has adjusted to his first few days of school as well as weeks of football practice. For Alex, football was an added plus when transferring for his senior year, and finally getting cleared by CHSAA to be able to play. Despite the quite different coaching styles and very different offenses, Alex is a very talented athlete and is looking for a spot on either side of the ball. Sights are looking high and well as the senior quarterback/outside linebacker adjusts to the new offense and his new teammates.
The "stallion", as the football team calls him, is looking forward to embodying his new stripes in the purple and gold, by possibly playing both ways for the football team, as well as wrestling in the winter for HF's hopeful young program.
About the Writer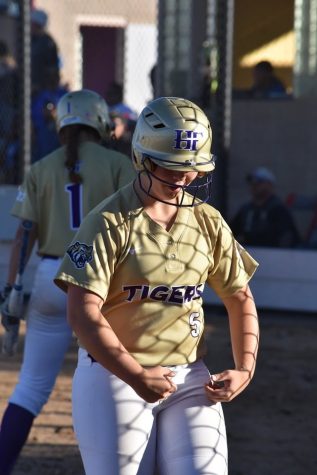 Abby Edwards, Staff Writer/Editor
My name is Abby Edwards, I am a senior here at Holy Family. I play softball for Holy Family as well as club outside. I'm currently committed to Boise...