Breeding Tradition In The Weightroom
It is no secret that high schoolers generally fall into the group revolving around the activities they participate in. Football players hang among the fellow footballers, while the soccer team would be found around the soccer team.
This generally applies to the population of the sports players whether it be the two listed or baseball, softball or even lacrosse. All of these different groups have many similarities and differences among them but all of them are able to find common ground in the weight room.
The weight room is not only a place to become stronger and better physically and mentally, but it has a small place in everyone's competitive spirit. Not many people are able to display themselves based upon their lifts, but a select few heavy lifters here at Holy Family have just found themselves at the forefront of the weight room on the board.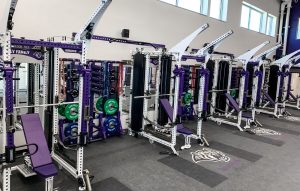 Coach Dodero said that, "the board keeps you all competing between yourselves and each other and that it motivates you. It helps breed a strong culture, and creates and displays tradition and alumni  frequently find the board first when returning."
The board is a display of three people for the categories of: squat, bench press, hang clean, and pound For pound – which is when you add up all the lifts and divide it by your weight. These lifts are broken up between the freshman, sophomores, juniors, seniors, and the highest accolade that can be received, All Time.
The board is a filed for competition because everyone who lifts in there would be happy to see themselves knocking someone's name off to find their own in that place. The weight room board has had a large part in the success and history of our sports teams.
Not only do the lifters work out to gain recognition through the board, but they lift in order to better themselves in the respected activity. Many students take even more pride in lifting because of their drive to chase the All Time slot on the board.
Examples of this can be found in seniors Justin Trostel, Brody Welch and Benito Hernandez. Mr. Welch, who just recently placed himself on the 1st place slot of the All Time category, knocked off a long held squat record spot with his 565 pound lift this year.
Hernandez who has lifted 345 pounds in the bench press this year is 20 off of making it high on the All Time Board. Trostel, who has an astonishing pound for pound (5.4) will be able to get onto All Time if he maintains his weight and lifts a bit heavier than his already impressive lifts.
"I remember looking at the board as a freshman and thinking how it was impossible," Hernandez said about the weight room board. "If it was going to be anyone changing those records it was our class, I believe we worked the hardest and it is just amazing knowing our class and football team are shattering records left and right."
The board does very much for the school and it's athletes alike. It continuously has driven those to do better and will continue through the future.